A Giveaway Worth Over $1,000! Happening Now…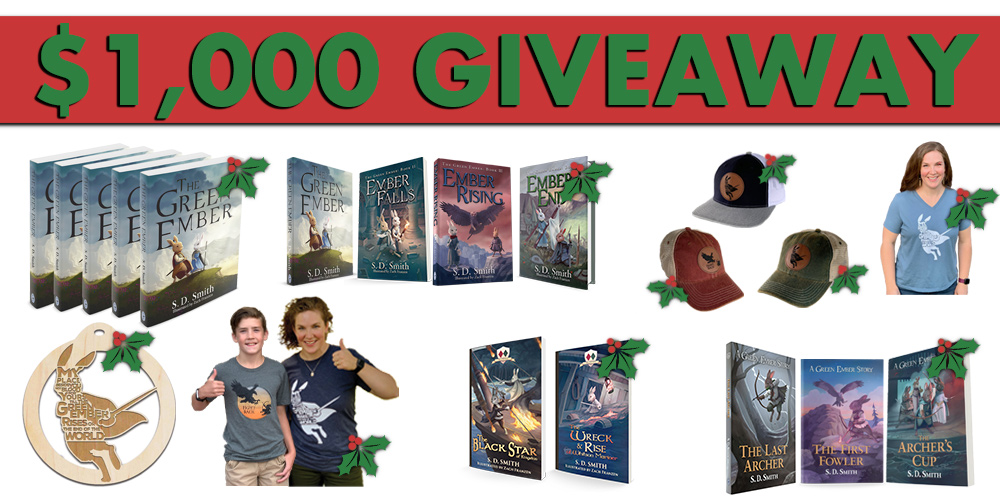 Christmas approaches, Thanksgiving is next week, and I love this time of year. It will be different and challenging this year for many of us, though the world has been far worse. Still, we're in a painful, frustrating, and (for many), very challenging time—maybe even a time of grieving and lament. Advent, a season of reflection and fasting and giving is just around the corner, and I love that it precedes the festive season of Christmastide. I love that Christmas is about being met by the divine in the midst of darkness. I love that, even though we feel like our culture is about as messy as it can get, God himself came into our mess to bless and redeem us. We get to celebrate that. And I love that for most of us, this involves giving! I'd be happy if you chose to shop our Christmas sale for some of your gifts, but regardless, I hope this season is (maybe unexpectedly) awesome for your family. I hope it's a time of togetherness and memory-making, of weathering the storms side-by-side, and growing in the adventure. 
Honestly, I can get tired of self-promotion pretty quick. But I do LOVE sharing these stories with kids. Today I listened to a former Scottish international rugby star tell me how he cried reading these books to his kids. I got another note today from a family with a son struggling with dyslexia whose first reading adventure is The Green Ember. He is PUMPED! (I've had countless notes like that!) These kinds of responses are what excite me. I'm on a mission to love and serve kids. Families. Your family. Your kids. I'm eager to keep it going as long as I can.
Because these stories are HOPEFUL. And they are HOSPITABLE.
Hopeful, Hospitable Stories
They started on my porch with my kids, and have spread all over the world to countless couches and snuggly beds and walking paths and everywhere stories are shared! I LOVE it.
We made a video trying to quickly express our experience and hope for these adventures. It's filmed on the actual porch where The Green Ember adventures began. (The porch where it happened…the porch where it happened.) It goes on to two other families sharing the first and then the latest book. It's a story about what is really happening.

I want LOTS of people to see it!
So I'm going to give away over $1,000 worth of prizes. Yes, $1,000. If you've been around here a bit, you know we aren't afraid of giving things away to help get these stories in the hands of as many people (who want them and would be served by receiving them) as possible. I want people to see this video and have a chance to be invited into these HOPEFUL, HOSPITABLE stories.

Are you in?
Want to help me out? Want to maybe win a fantastic prize worth $291? (I'm giving away FOUR—two winners on Facebook and two on Instagram.)
Please go and check out the video either at Facebook or Instagram and enter the giveaway! It's easy and it helps us a bunch. 
(ENDS DECEMBER 1.)

I'm giving away 4 HOPEFUL-HOSPITABLE STORIES ULTRA MEGA BUNDLES!
Each winner will receive these prizes worth a total of $291!
1) A complete SIGNED SET of ALL FOUR Green Ember Hardcover Books! (Worth $102)

2) A complete SIGNED SET of ALL THREE Green Ember Archer Books! (Worth $33)

3) A complete SIGNED SET of BOTH Tales of Old Natalia Books! (Worth $20)
4) FIVE EXTRA GIFT-GIVING COPIES of The Green Ember! (Worth $75)
5) A Green Ember Christmas ornament! (Worth $15)
6) A Green Ember Shirt of your choice! (Worth $20)
7) A Green Ember Hat of your choice! (Worth $26)

Thanks for helping us out. Thanks for sharing these stories. Thanks for shopping our Christmas deals. Thanks for loving the kids in your life! I'm grateful for you!